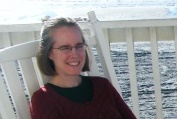 Hi! My name is Laura Navarro and I live near Charlotte, NC. You can email me at lauranavarro.cog (at) gmail (dot) com.
This is my blog where I ramble about homeschool, friends, family, my school, and daily life. I started it on a whim in June, 2008. Since then I've roamed the blogosphere and tried out different ideas and styles. I am slowly shaping my blog to match me.
I have learned that I like to blog much more often than I thought I would. My inspiration to start a blog was a friend who updated hers once in two months.
I chose to start a blog to collect my thoughts about home schooling and the growth I knew would come to me as we began that adventure. That's what you will find here. Every day is different and my blog reflects that.
I chose my blog name because I was reading a book called The Relief of Imperfection: For Women Who Try Too Hard to Make It All Just Right
and I thought that captured my decision to start blogging pretty well.
I often rethink why I am blogging. I have found the description by Zach Nielsen actually captures it best and I revisit his post often to remind myself why I am doing this.
Welcome!