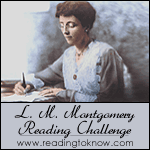 Reading to Know has a challenge going on, to read something by L. M. Montgomery. I have read the Anne of Green Gables books and loved them thoroughly.
I had never ventured beyond that so I hope to read something new in January for this challenge. I've put in a request at the library for Pat of Silver Bush
and Mistress Pat
. That will leave the Emily books for next time. And then there are all her short stories.