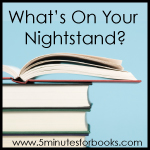 Wow, it's that time again.
Right now I have a nice stack:
Les Miserables for the March Classics Bookclub at 5M4B.
Christianity in Crisis: 21st Century for the Thomas Nelson Book Review Bloggers
honey, i don't have a headache tonight by Sheila Wray Gregoire
Not Knowing Where by Oswald Chambers, a loaner from a friend.
Your God is Too Small by J. B. Phillips picked up from our Sunday School shelves.
And I am finishing up the audio book Not For Sale, which was the Feb freebie at christianaudio.com
That means I will probably have a new audiobook when March rolls around.
Progress from last month.
I finished The Seven Storey Mountain and the Oswald Chambers biography (January's free audio book). I also read The Great Eight by Scott Hamilton for the Thomas Nelson Book Review Bloggers and Deeper Water for my church book club in March.