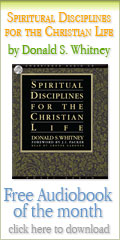 This is the free audio book for March at Christian Audio.com. Last month I listened to Not For Sale and the free book in January was the biography of Oswald Chambers. The books are very good quality, the audio production is good, and I am doing a good job of building my audiobook listening skills.
The Christianaudio sign up gives you the option to get newletters but it was easy to say no to that. The only email I get from them now is the announcement of the next month's free book.
This month's book is a good subject, one we need to pay more attention to. The book is well written and I have enjoyed what I've heard so far. I have also been convicted and begun making a few changes already.
Go check it out – you'll be glad you did.