We're on vacation this week. We're in Florida visiting friends and family. We left lots of rain behind and have had wonderful sun since we got here. I'm even going swimming later this morning!
We sent Connor to spend the week with his Dad and brother – he seems to be quite happy with that arrangement. The other member of the household is not quite as pleased with the state of things.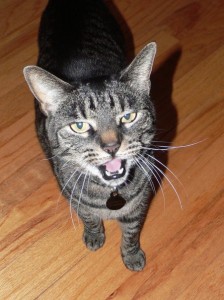 Our good friend Krista has been going by to give him some love and attention. He meets her at the door and tells her his tale of woe. He is not pleased with us (as you can see). When we get home I will unload the car while Anthony loves on the cat and makes it up to him. Until then, Krista will faithfully go and let Bluetooth tell his side of this tragic story.