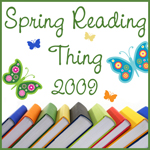 Time for the Spring Reading challenge from Callapider Days.
Here is my list that I'm planning on reading between now and the end of Spring!
Consequences of Sin by Clare Langley-Hawthorne
Sworn to Silence by Linda Castillo (an advance readers' edition, it's coming out June 2009)
Get Outta My Face! by Rick Horne
The Hole in Our Gospel by Richard Stearns
The Odyssey by Homer
Spectacular Sins by John Piper
How Long, O Lord by DA Carson
Finally Alive by John Piper
Emily Climbs by LM Montgomery
To Kill A Mockingbird by Lee Harper
Inkheart by Cornelia Funke
The Uncommon Reader by Alan Bennett
finish Les Miserables (I've read 1 volume)
the ChristianAudio April freebie
the ChristianAudio May freebie
the ChristianAudio June freebie
Believing God by RC Sproul, Jr.
George Muller bio by Pierson
I've read 23 plus several books of the Bible in Jan-Mar 20, so these 18 should be doable. The danger is I find other things to read and they push out the planned books.
And I am sure we'll find more books at the Ligonier National Conference so the list will only grow.