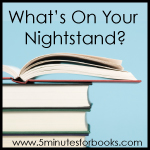 Yep, another month has rolled by.
What do I plan to read this coming month?
Fiction:
Around the World in 80 Days for the 5M4B Classics Bookclub
The Secret Life of Bees by Sue Monk Kidd – church book club
Consequences of Sin – library book
Sworn to Silence by Linda Castillo (an advance readers' edition, it's coming out June 2009)
Nonfiction:
That Went Well – library book, I just loved the title
Finally Alive by John Piper (almost finished)
Not Knowing Where by Oswald Chambers (almost finished)
Believing God by RC Sproul Jr (I read the first chapter, I like it)
The Hole In Our Gospel by Richard Stearns (Thomas Nelson Bloggers freebie)
Spiritual Disciplines – the audio book for March
Now, progress check on last month's list and any extras that popped up.
Les Miserables

– well, I finished the first volume and haven't gotten back to it. I want to, but we traveled and this is not a book that travels well.

Christianity in Crisis: 21st Century

– I did finish this one and found it very interesting.

honey, i don't have a headache tonight

by Sheila Wray Gregoire – haven't gotten to this one yet.

Not Knowing Where

by Oswald Chambers – I've almost finished this one – I am liking it a lot!

Your God is Too Small

by J. B. Phillips – I haven't gotten to this one yet
I did finish the Audio book – Not For Sale by David Batstone, this was a very convicting book. I am about 1/2 way through the March audiobook Spiritual Disciplines by Donald Whitney. There is a new one free every month at Christian Audio.
I also read a few others. Going Postal by Terry Pratchett, Same Kind of Different As Me by Ron Hall and Denver Moore, Kiss by Ted Dekker, Emily of New Moon by LM Montgomery, Get Outta My Face by Rick Horne, and Cyrano De Bergerac by Edmond Rostand.