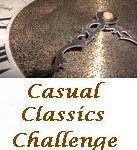 Casual Classics Challenge 2009
Classic being anything written before 1970. And only need to read 4 of them – my list of books:
To Kill a Mockingbird – done
Jane Eyre – got it on my Kindle now along with several other Bronte books
Heart of Darkness – done
The Trial by Franz Kafka
The Iliad counts and so will the Odyssey when I finish it. Sense and Sensibility definitely counts. Pat of Silver Bush and Mistress Pat also count. I just finished The Scarlet Pimpernel as well as Emily of New Moon and Emily Climbs so I have definitely read some classics.
Technically this one is still going on, but I'm marking it as closed for me. I have read many classics and will read more before the year is over.