Time to celebrate some accomplishments in the Navarro household.
Right now I want to recognize just how awesome my hubby is. He and my brother-in-law have been discussing building an entertainment center for a few weeks. The b-i-l kept asking how it was coming, DH kept saying he needed to finish sketching it up to make sure it was what the b-i-l wanted. I wondered how long this would drag on. Then DH decided this past Saturday was a great day (I encouraged this thought) to get it done!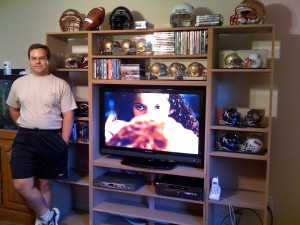 The MBF was bought Friday and got home dry in spite of the spitful showers we had all weekend. Then Saturday I dragged him off for a bike ride (more on that in a separate post) so he didn't get started until about 11 am. He got it all done, though. He sent a few pictures to the b-i-l through the day so he would know it was coming along nicely!
The weather looked dicey on Sunday so we opted to keep it in our garage until later in the week. Monday was bright and sunny and DH decided (again, with my encouragement) to just finish this little project so he loaded it all up in the truck and headed to Hickory. The b-i-l got off work and headed home to dismantle the tv and shelf he had. Then b-i-l, DH, and the nephews did some work and got it all in place. Everyone is happy!