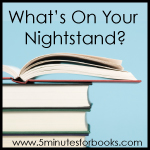 I'm approaching the end of the Spring Reading Thing challenge and not at the half-way mark yet with the 999 challenge. Here's what I plan to read over the next month.
Dred Scott's Revenge by Judge Andrew Napolitano (Thomas Nelson book review blogger)
Patriarch: George Washington and the New American Nation by Richard Norton Smith
The Zookeeper's Wife by Diane Ackerman
The Odyssey by Homer
Believing God by RC Sproul Jr.
Quick status on last month's list:
The Odyssey by Homer
Spectacular Sins by John Piper – on Kindle
How Long, O Lord by DA Carson – 2 chapters left
Believing God by RC Sproul Jr
make progress in Les Miserables
The Scarlet Pimpernel – on Kindle – done – loved it, as always
The Nicomachean Ethics by Aristotle
Not very good progress. I didn't even pick up The Odyssey or Les Miserables and only picked up The Nicomachean Ethics to move it on the desk.
I did read other books this past month, including Light of Heaven by Jan Karon (great, as all Mitford books are), Inkheart by Cornelia Funke (an enjoyable read), The Shack by William Young (not life-changing), and Losing Mum and Pup by Christopher Buckley (funny and true to dealing with the death of a parent).