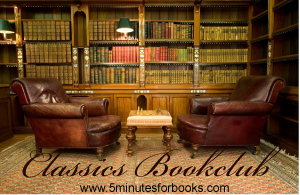 I have heard of this book forever (it was published in 1938) but never got around to reading it. I could never really tell what the book was about so when 5 Minutes for Books put it on the Classics Bookclub list I knew it was time to read it. Then I read the teaser questions and got even more intrigued. I didn't realize Rebecca wasn't the main character of the book.
Why do you think the heroine remains nameless? (did you notice she was never referred to by name?) Don't you find it interesting that the novel is titled "Rebecca" yet our narrator is nameless? Why the contrast, do you think? Do you see her anonymity as indicative of some deeper meaning?
She's a shy, insecure, girl with no personality of her own yet. Contrasted with Rebecca who was very sure of herself and very vivid in her personality.
Did you like Maxim at first? Did you trust him? Why do you think the narrator was so unsure of his affection? Did you share her doubt? What gave her confidence in his love–or did she remain insecure? Did you alter your opinion of either Maxim or the narrator in the course of the novel? What made you change your mind?
I liked him but I did wonder why he was marrying her so quickly and then abandoned her once they got to Manderley. Reminded me of The Scarlet Pimpernel where he loved her so very much and then because they both had secrets that they wouldn't trust the other one with, or ask about, the distance grew.
The narrator annoyed me after awhile and I wanted to give her a kick in the rear. I can relate very much to the overactive imagination and the habit of assuming others are thinking negative things about you. But it was so unrelenting that I started to wonder how she could be the happy and sincere person Maxim loved.
I was happy when Maxim finally trusted her with the truth, even though it did mar some of her innocence.
Rebecca has one of the more famous opening lines in literature. How do the opening lines set the tone of the novel?
Presents the imagination of the narrator and the centrality of the place.
How would you classify Rebecca? Love story? Ghost story? Tragedy? Mystery? It's been called one of the greatest gothic romances; would you agree?
I found it on the YA shelf at the library, and I would agree with that categorization. I was losing patience with the narrator. I see it as a love story – since the two main characters (not Rebecca) do find true love and realize it comes when you are honest with each other and face things together.
Without giving too much away (hate spoilers), were you satisfied with the ending? Why or why not?
I was satisfied with the ending to the story of Rebecca, I thought it suited her character. I found the ending of Manderley a bit unexpected.