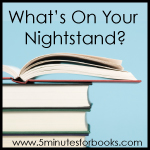 The month has flown by and I got less reading done than expected.
Look here to see what I have been doing with my time.
On my list for the coming month:
Finish John Adams by David McCullough for Book Club in September.
Finish Rare Jewel of Christian Contentment by Jeremiah Burroughs
Fearless by Max Lucado for Thomas Nelson Bloggers
Let Go by Sheila Walsh for Thomas Nelson Bloggers
The Cruellest Month by Louise Penny – #3 in the Three Pines mysteries
Finish The Divine Comedy audio book from ChristianAudio.com. I finished The Inferno and I'm deep into Purgatory now.

Into the Looking Glass

by John Ringo – borrowed from a relative – good science fiction with quirky humor.
How did I do on last month's list?
Other books that I read this month:
I finished my "car" book. I ended up at a meeting an hour early and that got me within a few chapters of the end, so I had to bring it in and finish it. Luckily, I got some good books at the library used book sale so I have a "new" book in the car. The Eleventh Commandment by Jeffrey Archer was very good. It probably isn't a very good recommendation that it took me 6 months to get through it. The story was very interesting and I did want to see how it ended. But it was also the perfect car book. It has a small number of characters and each is different in profession and personality so it was easy to remember them. The plot is not overly complex or subtle. This means it is easy to just pick up where I left off rather than trying to remember what was happening. I have enjoyed the Jeffrey Archer books I've read so I'm always on the look out for others.
I also veered away from my list to read My Sister's Keeper by Jodi Picoult. I had it on my TBR list and it was on the buy 2 get 3 sale table at BN. It was as good as I've heard. Every character was handled well, even the brother. I had read the ending in a review of the movie, but I was still surprised and saddened by it. (Yes, it ends differently from the movie.) I felt it was very well written, but at the same time the issues that this family had to deal with were suffocating. I found myself reading it each night with the desire to finish so I wouldn't have to live with this family any longer. Because it was so real. I highly recommend it, and will be looking for others by Picoult.
I finished Eat This Book by Eugene Peterson. It was free from ChristianAudio.com last month and was very good. I still need to finish Christ Plays in Ten Thousand Places , part of the same series.
I also read the first four juvenile novels that Robert A. Heinlein wrote in the 50's. They were collected together into a book called Four Frontiers and were very interesting. I enjoyed Heinlein when I discovered him years ago, but then I wandered into his later works and got tired of them. It is refreshing to read real science fiction, when it was expected that we would be colonizing other planets and moons.
One I enjoyed was Unspoken Words by Elizabeth Musser. I don't read much Christian literature usually – it just isn't something I spend much time on. This was well done with a good story.