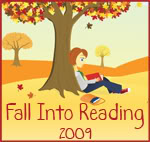 It's a new season! For fall, Katrina at Callapidder Days is hosting Fall Into Reading 2009.
I love this kind of challenge for a few reasons. It is a great way to see what other people are reading. Katrina will have a linky where we'll all link to our post. Then she'll have a page where we'll all post our reviews. That way not only do we get to see what folks are reading, but if they liked it or not and if it's something we'd like or not. Not that I need any help building my to be read stack.
The other benefit is that I create a list and have some general accountability. It's understood that I'll change that list some, but at least I have a way to remember what my intentions were.
So, what will I be reading between Sept 22 and Dec 21? I plan to make great inroads on my 999 project. At the beginning of 2009 I selected 9 categories and have plans to read 9 books in each category. I have made great progress, with some changes to my original plan, but I have plenty more to read.
From this month's nightstand:
St Thomas Aquinas – biography by G. K. Chesterton (a 999 book)
Find Your Strongest Life by Marcus Buckingham (a 999 book)
Kabul24 by Henry O. Arnold and Ben Pearson
The Jesus Way by Eugene Peterson
Then we'll move on to:
The Aeneid by Virgil (since I've read The Iliad and The Odyssey and The Divine Comedy starring Virgil)
Selected Writings of Thomas Aquinas
Unpacking Forgiveness by Chris Brauns
The Life of Pi by Yann Martel
Blue Castle by L. M. Montgomery
The Story Girl by L. M. Montgomery
Canterbury Tales by Chaucer
The Trial by Franz Kafka
A Rule Against Murder by Louise Penny
Wings of Fire by Charles Todd
The Confessions of Augustine
I'm enjoying the 999 challenge because it's kept me focused on some of the more serious reading I wanted to get through. I've read plenty of fun stuff along the way, but made great progress on my list of works to read. I see 2010 shaping up differently though. A good list of authors rather than the wide range I've read this year.