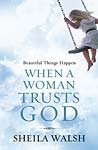 My latest BookSneeze book is Beautiful Things Happen When a Woman Trusts God by Sheila Walsh.
The title says it all. This is a book about how hard it can be but how rewarding it is to trust God. The author uses real life examples and people from the Bible who faced similar examples to show how God is always faithful and it is never too late to trust. The writing is well done and the points are well made.
I am learning that this is an author I can always trust. She is biblical, relevant, practical, and true. In this book she reveals a bit more of her own story, presenting lessons and struggles that are common to so many of us. Then in each chapter she addresses this concern or issue through the life of a person in the Bible. She assumes the story is somewhat familiar but clarifies some good points and shows how their life story reflects trusting God (well or not so well, early or late).
I am encouraged and convicted by this book. I recommend it to all women seeking to live godly lives, dealing with brokenness, or needing fulfillment.
**********************
Disclosure of Material Connection: I received this book free from Thomas Nelson Publishers as part of their BookSneeze.com book review bloggers program. I was not required to write a positive review. The opinions I have expressed are my own. I am disclosing this in accordance with the Federal Trade Commission's 16 CFR, Part 255: "Guides Concerning the Use of Endorsements and Testimonials in Advertising."