Of course, this word makes me think of Paul's advice to Timothy to be ready in season and out of season to share the truth of the gospel as he had learned it.
There is also being ready for life going sideways. I was reading Teach us to Want by Jen Michele Pollock and she referred to a book by Joan Didion (who I had vaguely heard of) about life going sideways the year her daughter was in a coma and then her husband died at the dinner table. That is going sideways people, hard to top that one.
So I was reading this book Teach Us to Want and making note to pick up the book by Joan Didion from the library while I was waiting to have my CT scan done back in April. Which is when my life went sideways. As I'm driving home, my doctor calls me to tell me it's cancer. He's already getting an appointment scheduled with a gynecologic oncologist because it looks like ovarian cancer.
Only she gets in there and sees the cancer is everywhere in the abdominal area, the mass is actually pressing on the large intestine and the small intestine, and the test shows it's a very rare cancer called signet ring cell carcinoma.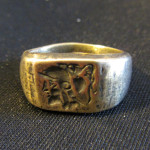 This is a signet ring, so the cell is squashed a bit to form this kind of shape instead of the normal round shape. At least that's what they tell me. Survival is median 4 years after diagnosis. I am pretty sure I had it 6 months before the diagnosis, so I'm already a year into that median.
That doesn't mean we're giving up, just that I'll be on maintenance chemo for the rest of my life. And my life won't be that long. My sister says 8 years was the longest she's found on the internet. Or maybe signet ring cell folks don't advertise.
Anyway, back to being ready. My faith was strong the day I got the diagnosis and the day I was told it was actually a rare and deadly (read terminal) type of cancer. I am ready to go Home if that's what He plans. Or ready to stay here if that's what He plans. When we decided to try chemo to see if I would respond and then I did respond really well with much of the tumor gone and other thickening gone, I kind of felt like I had traded in my "get out of jail free" card. But I am willing to leave the events to God and just focus on my duties.
To live is Christ and to die is gain. Paul follows that up with that it would be better for them if he stayed so he suspects he'll be spared and get to stay. For now the only time I get sad is when I think of the people I'll leave behind who will be hurt by my death. My husband, my aunt, my friends, my church.
But we are just taking one step after another and going ahead. We'll let God worry about the actual timing. My faith is in Him and I know where I'm eternally headed and I like the thought of that. I still cry at the drop of a hat but not from sadness or depression. More from emotional release I guess. The story of Christ on the cross is so precious to me these days that it always brings tears to my eyes. Hearing people I love pray for me to be healed brings tears. Maybe that is God's plan, but for now I have to assume He gave me a terminal cancer because He's taking me home soon.
But I don't worry about long term plans. I just keep walking one step in front of the other. He is a light until my feet and lamp to my way. He only gives me enough light for the next step, not for the next 60 steps, as much as I would like that assurance of what's next.
Trying to say, that I hope that whatever comes, I'm ready!