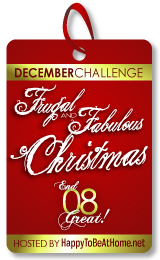 This is Decembers End 08 Great challenge at Happty to be @ Home.
While I didn't post about this earlier, I am doing a pretty good job at this one. I created a Christmas list and then pared it down quite well when Anthony lost his job a week ago.
I have some things that I've collected over the past year for gifts. We are also suggesting to some family that instead of gifts, we give money to a worthy cause (local or international) in someone's honor. See my post on the Advent Conspiracy.
As for Fabulous – well, I finish school tomorrow so the season can't help but be fabulous. We have singing, bells, parties, the Christmas Pageant last night – it's a season set up to be wonderful.
I did go minimal on the decorations this year. We don't have many people over here so we don't have anything to show off. What goes up should be for us. I had Anthony pick up a creche scene for us since we apparently don't have one. I think every year I tell myself we need to get one and then I convince myself we have one packed away in a box somewhere. The ladder tree went up and we're gathering our presents on there. (I also gather empty boxes and bags where we open presents – keeps it looking full all season long.)
To see the ladder tree and our other decorations, check back here on December 15. We'll be participating in the Christmas Tour of Homes for 2008.
This week we had a party on Monday for the deacons of our church and their families. We had good food and a lot of fun. Then while we deacons were meeting, a few friends cleaned up my kitchen and even put my trash out. It was awesome to come downstairs and see it all done! Thanks Krista, Kathy, and Amy.
Last night was the Christmas pageant at church. I had a major role this year for some reason. I was glad I could read from the script, but the kids did a great job with all their songs and their lines (with no scripts to cheat from!). Connor had a part and did it well. Anthony ran the sound board with the CD, 6 mics, and following along in the script. We agreed it would have been much easier with two people so we'll plan better next year.
Sunday bell quartet plays. Monday I have lunch with my friend Audrey. Tuesday I spend the entire day with my friend Charlotte. Then next Sunday full handbell choir plays. Then trio (quartet minus 1) plays again on Christmas Eve, along with my solo of 'O Holy Night'. Christmas Day we are doing rolls and Snowball cookies at my aunt's house (my mom and two aunt's are providing all the really good food). All fun stuff and nothing requiring that I get crazy about anything. Probably the craziest I have gotten was getting the house clean and food/plates purchased for the party on Monday and even that was mostly fun with Connor and Anthony around to help some.
All of that to say this Christmas (and the entire month) has been pretty frugal and is shaping up to be very Fabulous!