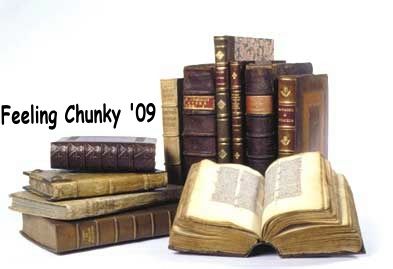 I do realize the humor of having this post follow my New Me Challenge update post. But while I am getting rid of some of the chunk, I am rising to the challenge of chunk in a different area. I have come up with a slightly crazy reading goal for 2009. The 999 Challenge is to read 9 books in 9 areas in 2009. Here is where I have my list and my reviews/progress tracking.
When I found the Feelin' Chunky challenge I realized a few on the 999 list fit the description so I can do that too!
And you have to admit, the graphics are cool!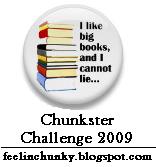 I'm going with this option:
*Do These Books Make my Butt Look Big? – this option is for the slightly heavier reader who wants to commit to 3-5 Chunksters over the next ten months.
What's on my list that qualifies?
Plutarch's Lives Vol 1 (751 pages of small print)
The Histories by Herodotus (502 pages)
The Oddysey (at 462 pages) [I read The Iliad back on 1/1-2, a definite chunker at 588 pages ]
Thomas Aquinas Selected Writings (827 pages, very small type)
Plus a few Russian novels I hope to get to.
Happy Reading!