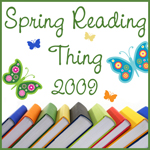 Just tracking my progress here:
My original list with links to book reviews or summaries.
Consequences of Sin by Clare Langley-Hawthorne
Sworn to Silence by Linda Castillo (an advance readers' edition, it's coming out June 2009)
Get Outta My Face! by Rick Horne
The Hole in Our Gospel by Richard Stearns
The Odyssey by Homer
Spectacular Sins by John Piper – on Kindle
How Long, O Lord by DA Carson – not in library, available on Kindle
Finally Alive by John Piper
Emily Climbs by LM Montgomery
To Kill A Mockingbird by Harper Lee
Inkheart by Cornelia Funke – hold 4/22 but position 40. I did read The Hiding Place by Corrie ten Boom
The Uncommon Reader by Alan Bennett – hold 4/22
finish Les Miserables (I've read 1 volume)

the ChristianAudio April freebie

– not a good book, but I did read Around the World in 80 Days by Jules Verne
the ChristianAudio May freebie
the ChristianAudio June freebie
Believing God by RC Sproul, Jr.
George Muller bio by Pierson – on Kindle
It's tempting to put off finishing something deep and get a quick success in, but I need to hold down and finish what I have in progress already.