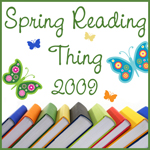 Spring is over – Summer is here!
I mostly finished my reading list! And read several other books along the way, due to library schedules or getting distracted. For example, I read the Zookeeper's Wife by Diane Ackerman and really enjoyed it! I also read a biography of George Washington that wasn't as enjoyable, but was a good start on what is turning into a major reading project around the Founding Fathers.
The beauty of a challenge is that it keeps me on task, so I don't get too far off track with additional reads without reading at least some of my original objective.
My original list with links to book reviews or summaries.
Consequences of Sin by Clare Langley-Hawthorne
Sworn to Silence by Linda Castillo (an advance readers' edition, it's coming out June 2009)
Get Outta My Face! by Rick Horne
The Hole in Our Gospel by Richard Stearns
The Odyssey by Homer
Spectacular Sins by John Piper
How Long, O Lord by DA Carson
Emily Climbs by LM Montgomery
To Kill A Mockingbird by Harper Lee
Inkheart by Cornelia Funke
The Hiding Place by Corrie ten Boom
The Uncommon Reader by Alan Bennett
finish Les Miserables (I've read 1 volume)
Around the World in 80 Days by Jules Verne
Foxe's Book of Martyrs by John Foxe-the ChristianAudio May freebie
Christ Plays in Ten Thousand Places by Eugene Peterson – the ChristianAudio June freebie – started but not finished.
Believing God by RC Sproul, Jr.
George Muller bio by Pierson – on Kindle