Wow – I just looked at my blog posts and it looks like all I've been doing for the past month is read. Really – that's just what I've posted on my blog. I've been plenty busy doing other things.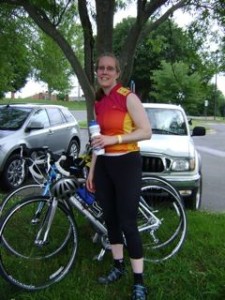 For example, remember this post about my cycling adventure. You may not, it was back on May 22. I have done more cycling and have more planned. DH and I rode in a 31 mile ride that started at Davidson College. We did all 31 miles in 2 hours and 15 minutes, which I think is pretty awesome. The picture to the right is right after we finished – I don't look too much the worse for wear. DH could have done it much faster but he kept waiting for me. I have decided that when we move, it will be to a place with no hills.
We have another ride, 40 miles this time, coming up on July 18th. That will be up around the Lake Norman State Park. I'm not nearly as nervous about that ride as I was the first one. I know that if I can do those 31 miles then the 40 won't kill me.
We are also taking a class at a local bike store where we are learning how to handle hills more efficiently (I still think not riding hills would be most efficient).
All of this is really building up to the first weekend in October, when we are riding in the MS bike ride. DH rode in this charity ride 3 years ago and hasn't made it since due to church Senior High Retreat obligations. But this year we're riding it. Not together, however. He will be riding 100 miles on Saturday, I will do a separate and shorter route. Then maybe we'll ride together on Sunday.
Having said all that, I will make the pitch now. The MS ride is a charity ride and it is for a very worthy cause. People are diagnosed with MS every day and there is hope for them. Please consider making a donation for me on my MS150 page, or a donation for my DH on his MS150 page.
We'll see you on the road! (Please give us plenty of room, I'm not good at staying steady on the white line yet.)